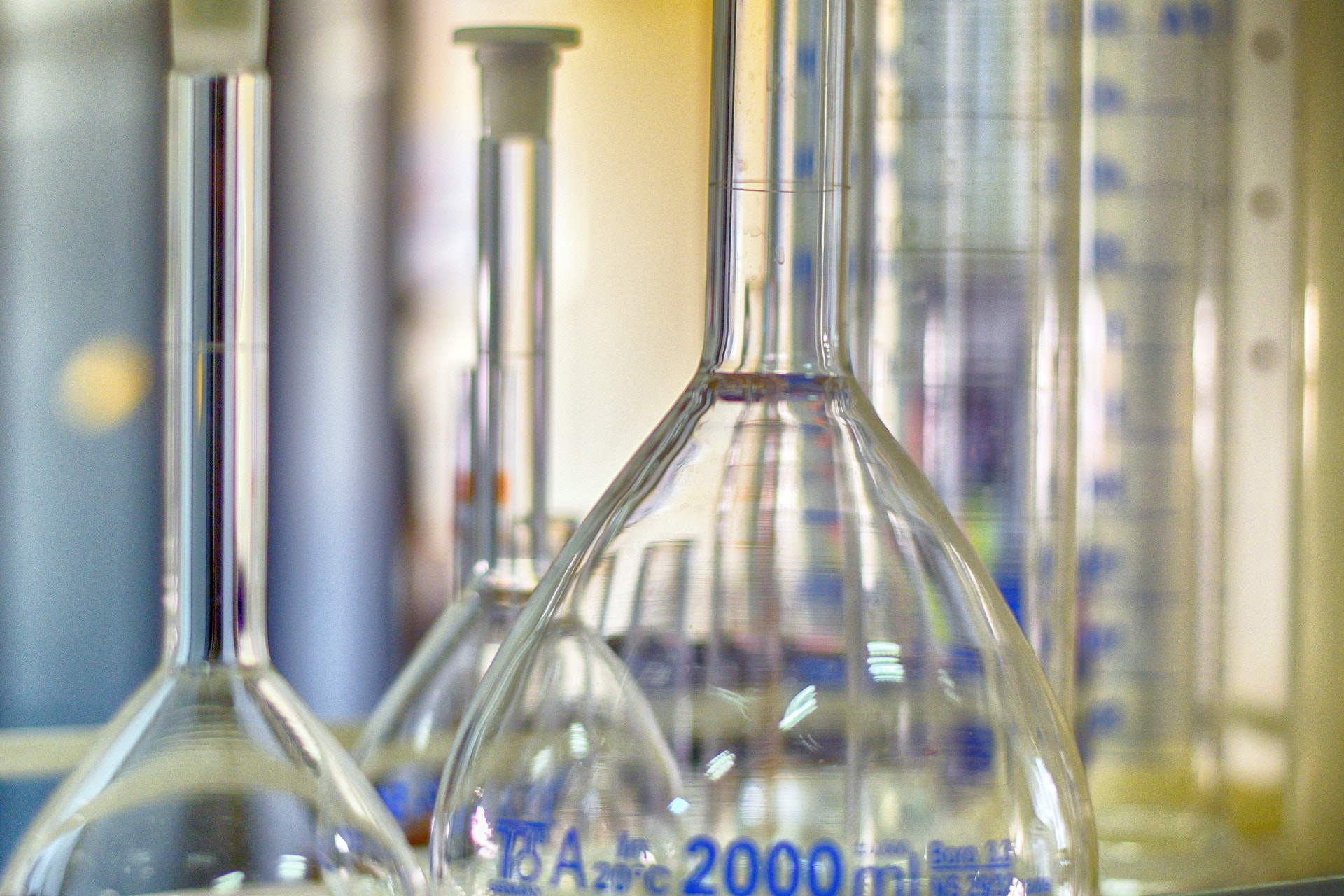 Laboratory glass exists in a wide variety of shapes that all fulfil their specific purposes. It is most common in laboratories of institutes, schools and companies. But home enthusiasts also use it for their experiments. At DutchChems we are there to supply our costumers with all types of glassware. With our constant expanding inventory, you should have no trouble finding what you need.
Most laboratory glass is made out of a special material called borosilicate. This material has a low coefficient of thermal expansion. This makes it more resistant to thermal shock than any other common glass. It enables the glass to be heated without the danger of cracking. The laboratory glass offered by DutchChems is mostly made out of this material and proves to have a high quality.
Erlenmeyer Flasks:
Erlenmeyer flasks are also known as conical flasks. It is a type of laboratory flask with a flat bottom, conical body and a cylindrical neck. Due to this shape, it is very well suited for mixing contents by swirling. The glass is also very well suited for heating liquids and reducing solvent loss. At DutchChems we offer both narrow neck Erlenmeyer flasks and wide neck Erlenmeyer flasks. You can check it out in our store at: https://www.dutchchems.com/product-category/labware/
Beakers:
Beakers are another common piece of equipment in a laboratory. These containers are very well suited for the storing, pouring and mixing of liquids. They are available in a wide range of sizes too. Beakers are commonly made our of borosilicate glass making them very well suited for heating. We offer beakers in volumes ranging from 100 mL up to 600 mL. All beakers are graduated which makes it easy to measure precise amounts of liquids. You can select them at: https://www.dutchchems.com/product/low-beakers/
Measuring Cylinders
Measuring Cylinders, also known as graduated cylinders or mixing cylinders is a common piece of laboratory equipment used to measure the volume of a liquid. They have a narrow shape and a very precise graduation mark on their side. Two classes of graduation cylinders exist; Class A and Class B. Class A has double the accuracy of Class B. Our measuring cylinders can be found at: https://www.dutchchems.com/product/measuring-cylinders/
If you have any questions about anything you may always hit us up by filling in the contact form on the contact page. If you would like to stay up-to-date with our latest changes to the website and get notifications about special offers you can always subscribe to our newsletter. Subscribers also get free subscriber discounts codes every once in a while so it is certainly worth it to take a look at it. Besides subscribing to our newsletter you can also follow our page on facebook, read our posts on Twitter and see our pictures on Instagram.